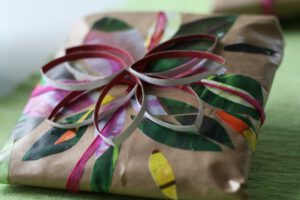 At the end of the semes­ter, I always like to include a wrap-up exer­cise for one final cre­ative writ­ing task: "It's a Wrap" – which also seems to be a fit­ting way to say good­bye to the Amer­i­can Stud­ies Blog this Sep­tem­ber. Here's how the task works:
Select end­ings from nov­els or short sto­ries with­out reveal­ing the orig­i­nal source. These are some of my favorite choic­es:I real­ly, tru­ly wish he hadn't said that. I keep think­ing about it. I can't stop. I don't have any­thing else to add. I just want­ed to make sure I had the last word. I think I've earned that. (Gone Girl by Gillian Fly­nn)

"It's because I'm con­cen­trat­ing on my the­sis, I don't wor­ry about oth­er stuff. Nobody asked if Freud checked the use-by date on the milk." "They didn't have use-by dates in the ear­ly twen­ti­eth cen­tu­ry." It was incred­i­ble that two such dis­sim­i­lar peo­ple had become a suc­cess­ful cou­ple. (The Rosie Project by Graeme Simsion)

Through the win­dows a strange sub­ter­ranean light was ris­ing, bare­ly dis­tin­guish­able from dark­ness. I felt change far beneath me, mov­ing deep beneath the sur­face of things, like the plates of the earth blind­ly mov­ing in their black traces. I found my bag, and my car keys, and I let myself silent­ly out of the house. (Tran­sit by Rachel Cusk)

…Also I've begun to feel he's the only per­son who knows any­thing about me. Maybe because I've nev­er hit any­one else with a bot­tle, so they nev­er got to see that part of me. Nei­ther did I come to think of it. It did make a mess; but then, I don't think I'll ever be a very tidy per­son. (Lady Ora­cle by Mar­garet Atwood)

Ask par­tic­i­pants to write a piece of short fic­tion (350–700 words) using the select­ed end­ing as a prompt for begin­ning their stories.
Keep your promise and reveal the orig­i­nal lit­er­ary sources to your par­tic­i­pants once they've com­plet­ed the task.
In the fol­low­ing sto­ry, "Who's Get­ting Crowned," the end­ing from Alan Bennett's The Uncom­mon Read­er inspired me to cre­ate a meet­ing between the Queen and her most loy­al sub­jects. Enjoy!